GREENLIGHT NETWORKS: CUTTING THE CORD

Cutting the cord – I'm sure we've all heard about it, but what does it mean to cut the cord? Cord-cutting is for consumers who are tired of the traditional way to watch TV (cable and satellite). Therefore. they make the switch to an online streaming service. It is easier than you think to make the switch! We'll cover everything you need to know so you can make an informed decision on cutting the cord.  This includes which streaming service makes the most sense for you! 
Cutting the Cord: Need to know 
There are three ways you can ditch traditional TV and join in on the cord-cutting revolution:  
Over-the-Air TV /Antenna 
By connecting an antenna to your TV you'll be able to access over-the-air local and network affiliate channels such as ABC, CBS, FOX, NBC, and PBS.  
Online Streaming 
Getting started with online streaming is easy as 1,2,3 – within minutes you can utilize an online streaming device such as a Roku streaming stick, Amazon Fire Stick Apple TV, and a Google Chromecast, etc. If you own a smart TV, they come equipped with internet connectivity and support for a range of apps. This opens a world of new entertainment options, from streaming video on Netflix and Hulu, to voice assistant which helps with switching channels and searching for programs. 
Combination of Antenna and Online Streaming 
The combination of an antenna and online streaming offers the most comprehensive cord-cutting option as it uses a traditional over-the-air antenna in combination with online streaming through a streaming device of your choice. If you would prefer to still have access to the local channels and want to avoid paying a fee – this option would be perfect for you. 
Pros To Cord-Cutting:  
Lower costs 

 

No contracts

 

Watch local channels for free via antenna 

 

Mix and match streaming services to watch what you want when you want

 

View content anywhere- At home or on the go via smartphone, laptop, or tablet

 

 
Streaming Options
Below we've included a table showing the best streaming providers with respective monthly costs. We break down each service and key channel offerings such as ABC, CBS, and FOX. Additionally, we cover what streaming devices are out there and which one will give you the most bang for your buck.  
Top live TV streaming services compared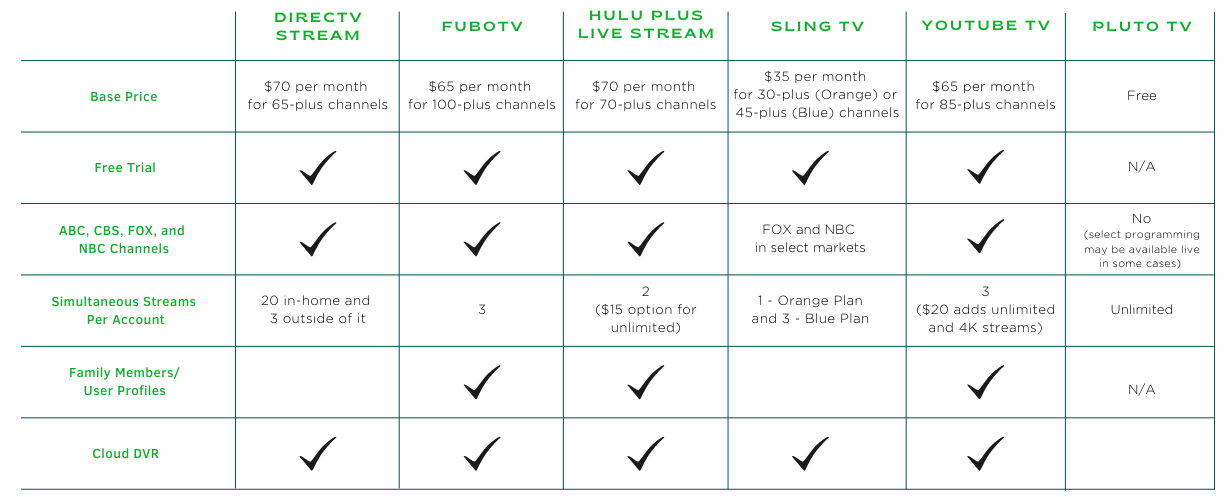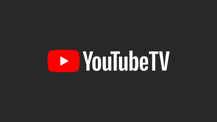 Before we dive into the selection of streaming devices – we have some recommendations for the best live TV streaming service for cord-cutters, based on service, features, and cost. Our winner is YouTube TV which starts at just $64.99 a month, and typically offers a free two-week trial for first-time users. One of the main advantages of YouTube TV is that it includes NFL, NBA, and MLB networks with zero extra cost, along with unlimited cloud DVR storage – so you can record and playback all of your shows on your own time. Additionally, YouTube TV supports up to three accounts simultaneously and up to six per household.  
Not sure you need all those channels? You can take advantage of Untangle.TV which is an online cord-cutting application that will create a custom package based on your viewing habits. 
If you're not equipped with a smart TV, we recommend starting with the Roku Streaming Stick 4K, which features high-definition streaming in 4K and starts at $39.99. You'll also gain access to a world of 26,000 apps that support your streaming lifestyle! If you're looking for more of a premium experience, we recommend the Apple TV 4K, which offers high frame rate HDR streaming, multi-user support, and wireless streaming support via airplay so you can share all your photos with the family on the big screen. The Apple TV HD starts at $139.95 and the Apple TV 4K will cost you $169.98.  
To support streaming all your favorite content in 4K – you're going to need a fast and reliable internet connection. 
Greenlight Networks' high-speed fiber Internet plans start at just $50/mo. for 500Mbps upload and download speeds. That's fast enough for the whole family to stream with zero buffering, so what are you waiting for – cut the cord and switch to Greenlight Networks ultra-fast fiber internet today!