How MDUs Benefit from NY's Fastest Internet Service.

High-speed Internet connectivity, like power, water, and heat, has become known as a basic necessity. A recent study by Ronin Technology Advisors showed that "80 percent of [multiple-dwelling-unit] MDU residents rated broadband Internet as being more important than other amenities." For MDU building owners, this means supplying a level of connectivity that helps attract and retain residents.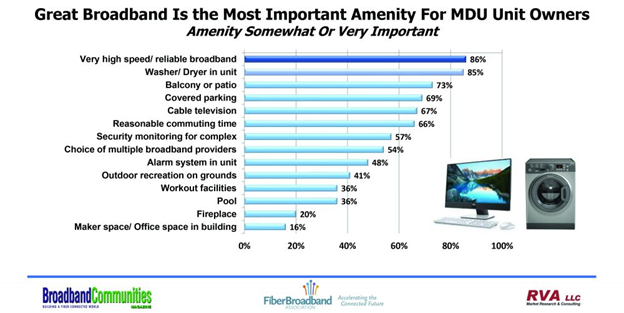 All MDUs have essentially the same two Internet and Wi-Fi service options for their residents. The property can provide the Internet as an amenity and include it in the rent. On the other hand, the renter can bring their own Internet by signing up with a local service provide. For example, Greenlight Networks would be an outside local service provider. 
Given the rise of bandwidth-intensive services and applications, there is a strong business case for all-fiber MDUs. Above all, service providers, building owners and tenants all stand to benefit. 
Fiber-optics Overview 
Fiber-optic Internet is the future of broadband. Firstly, it uses fiber-optic technology to reach the fastest speeds available today! For instance, Greenlight Networks supports up to 10GB today. However, the capability to scale our fiber up to 100GBps and beyond in the future is there!
Secondly, from a user's perspective, fiber-optic Internet is an advanced connection allowing you to stream, monitor, watch, or game. With multiple users and a variety of devices, a lot of Internet bandwidth can be consumed at once. To sum it up, with fiber-optic Internet, there is virtually no lag, no interruptions, no waiting, and no buffering!  
Fiber-optics vs Cable Internet
Cable Internet can get disrupted, cause slow Internet connection, slow download speed, and become a massive headache if you need to get stuff done. The main difference between fiber-optics and cable Internet is that fiber optics is lightning fast. The download and upload speeds are noticeable for users. In short, Fiber-optic Internet allows you to substitute cable TV for streaming services.  
Benefits for Property Managers 
Here is a little statistic, 50% of new buildings include fiber to each living unit. Having fiber-optic technology in your building is a huge plus for current and/or future tenants. Fiber is future-proof and able to meet rapidly increasing bandwidth needs.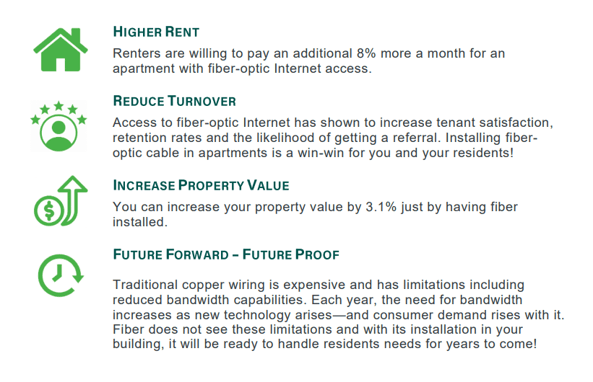 Benefits for Tenants 
What's in it for your tenants? When offering a fiber-optic Internet option instead of cable internet, your tenants experience a dramatic difference. The main benefits include: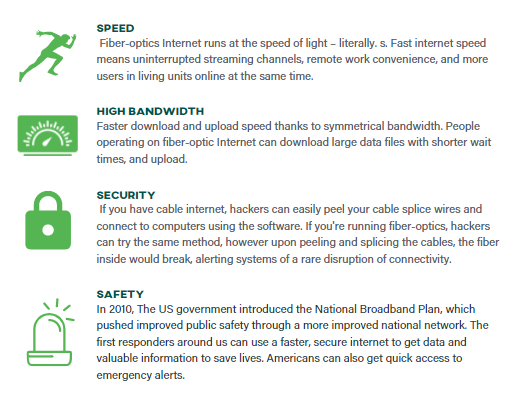 Bringing Fiber-Optics to Your Property 
Greenlight Networks delivers NY's fastest fiber-optic speeds or fiber-to-the-unit (FTTU) technology for MDUs giving properties an edge over their competition.  
1. Evaluation:
The first step in our process is to evaluate your property to find the best solution. 
New Construction Buildings: Bringing Greenlight Networks fiber-optic network to a building while it is being constructed allows us to place our fiber in every living unit during the initial construction. We work with the building owner/property manager to design a solution that fits the needs of the property and its tenants! 
Existing Buildings: Our team works with the building owner/property manager to make use of any existing and accessible pathways or conduit. When pathways are not available, we utilize the OFS InvisiLight Solution, a revolutionary system that enables, fast, easy-to-install and almost invisible fiber drop connection to and/or within the indoor living unit.  
2. Proposal
:
 Once we have evaluated your property, next our team will create a proposal that best suits the needs of your property and residents.
 3. 
Installation
: 
Finally, our trained technicians complete the work without disturbing residents.  
Once installed, there is no waiting and no hassle for residents. Each unit is pre-wired with our fiber-optic network, all you need is a router! With easy online signup and instant service, residents can access NY's fastest fiber-optic Internet the moment you move in. 
We often get asked if our service comes with TV options, Greenlight Networks is just the Internet! Our fiber-optic Internet is designed to meet current demand for streaming all your tenant's favorite content in 4k, which eliminates the need for a cable or satellite provider! The act of canceling cable or satellite in favor of a more affordable television viewing option is known as cord cutting. This can come in the form of on-demand streaming services such as Hulu and Netflix, or from the use of over-the-air broadcasting antennas.  
Using Greenlight's fiber-optic network delivers streaming content faster than ever, with none of the lag time and buffering that brings the action to a screeching halt! Learn more about how your tenants can take advantage of cutting the cord at your property.  
---
Interested in bringing Greenlight Networks to your property? Reach out to us directly at business@greenlightnetworks.com and we would be happy to evaluate your property to find the best solution!