How to Create a New Email Address
We have good and bad news. The bad news is that changing your primary email address can be a little bit of a hassle and a bit of a change. The good news? If you are reading this, then you made it through the past few years which have included a lot of hassle and a lot of change. Thus, making you a pro and making switching your email address a breeze!  
There are many reasons people get a new email address some are: 
Switching Jobs

No longer having access to use a school or work email
Too much spam
Leaving your phone/internet provider
Hacked email account 
Realizing that your current email address

 doesn't look so good on a resume 

 
Whatever your reason may be, we have a few tips on how to get started! 
1. Choose a New Email Provider
More good news alert! There are plenty of free options that will be perfect for you to use as a personal or even business email. Gmail, Yahoo, and Outlook are the most popular. Gmail and Outlook are great because they both interact well with other applications and offer 15 GB of storage. An added bonus, Gmail is associated with Google apps and Outlook is associated with Microsoft apps. If you do not care too much about collaboration, Yahoo is great for storage (1 TB of storage for free!) and has great spam-blocking capabilities.
However, if you do not fancy any of these there are plenty of other options! If you happen to have an Apple product, like an iPhone, Mac, or even an iPad, it is likely that you already have an email account provided to you by Apple! This is associated with your iCloud account. It is free and functional. A win–win.
Once you have gone through your options and made your pick, hold on to your old email for as long as you can! This will give you time to make the transition to your new email a lot smoother.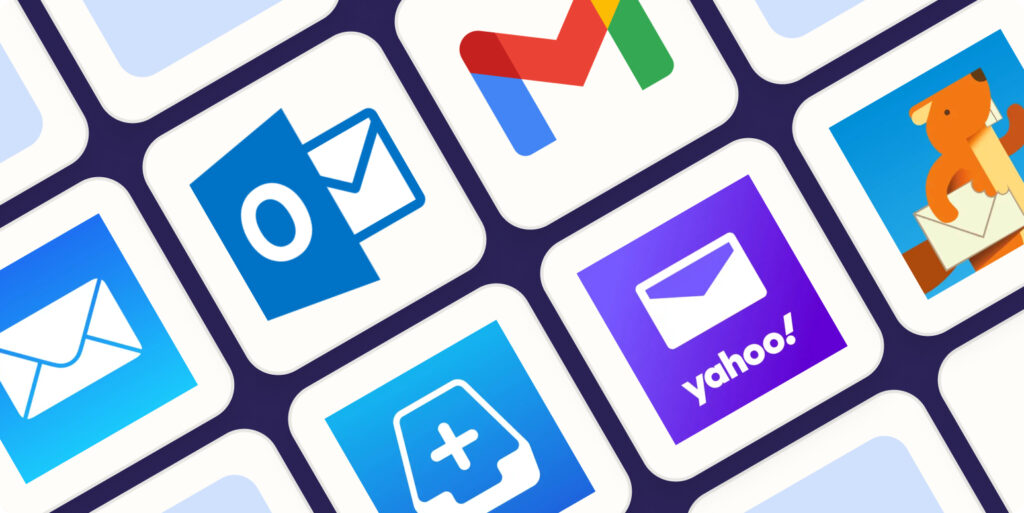 2. Give People a Heads Up
This part can be a little more tedious. However, it is likely the most crucial step. You may want to send out a notification to the people you email the most, family, and friends to let them know about your updated contact information. (AKA your new email address)  
Next, you should update your email address on any account that you set up electronic statements or billing with. This can include your bank, monthly subscriptions, etc. You will also want to make sure you update any accounts that require you to login with your email address.  If you use a password manager, it can be used to find which sites your email is used for login.  
Now this next step has its pros and cons. If you are up to it you can set up an automatic reply, otherwise known as a vacation reply, on your current email to let those emailing you know what your new address will be. However, keep in mind that anyone who emails you will get this response and will now know your new email address, including emails coming from spammers or scammers. If your current email address isn't prone to a lot of spam emails, then this is a fantastic way to let people know your email is changing soon!  
See below how to do this in both Gmail and Outlook: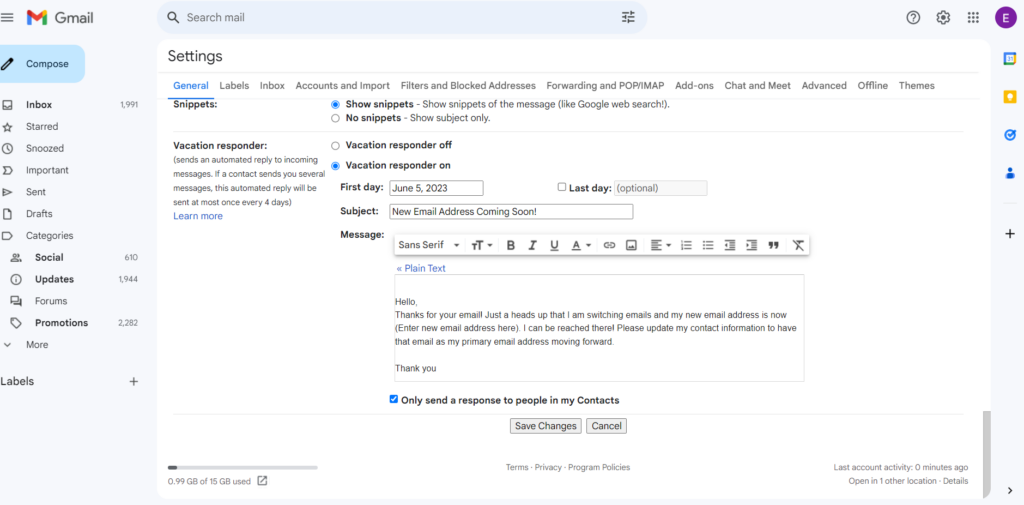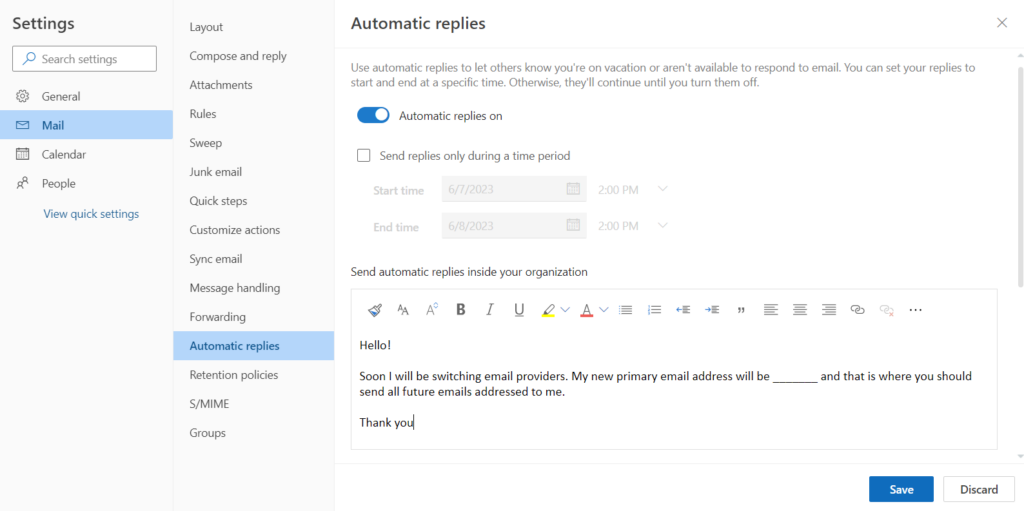 3. Import your Contacts or Address Book
Now that you have given family, friends, and businesses the heads up on your new email, it is a good idea to make sure you have everyone else's email! Luckily for you, most email providers now have a way for you to export your contacts/address book and save it as a file on your computer. After you've done this, you can then take this file and import it into your new email account! This saves the hassle of typing in your address book one by one and instead lets you upload them all in a matter of seconds! (It may be minutes if you aren't connected to Greenlight Networks 😉)
In Gmail, you can import your address book, as well as view emails from other email addresses!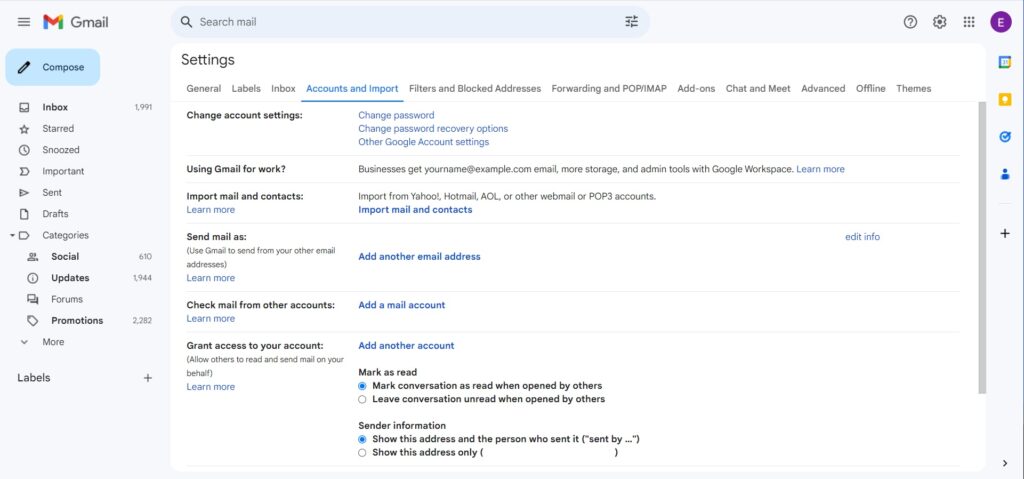 4. Almost Done! Now is the Time to Set Up Email Forwarding and Import Your Existing Emails.
Woo-hoo! Your new email is set, everyone important knows, and your new email has a ready-to-use contact list. The last step is to set up email forwarding. This means any email sent to your old email address will now be forwarded to the new email.  
Most email providers let you import your existing emails from your previous account. If you are looking for a fresh start you can avoid this step! However, if you don't want to keep flip flopping back and forth between email platforms to read old emails, import them to your new account!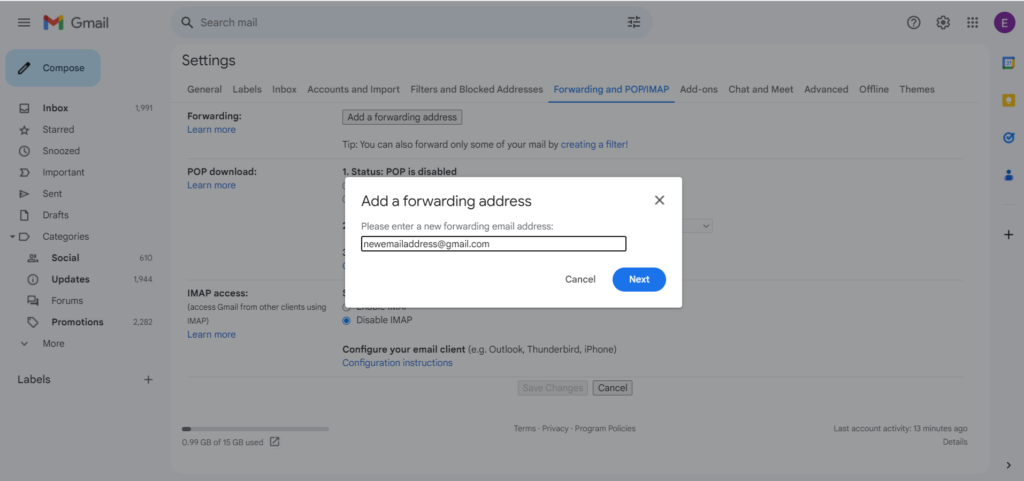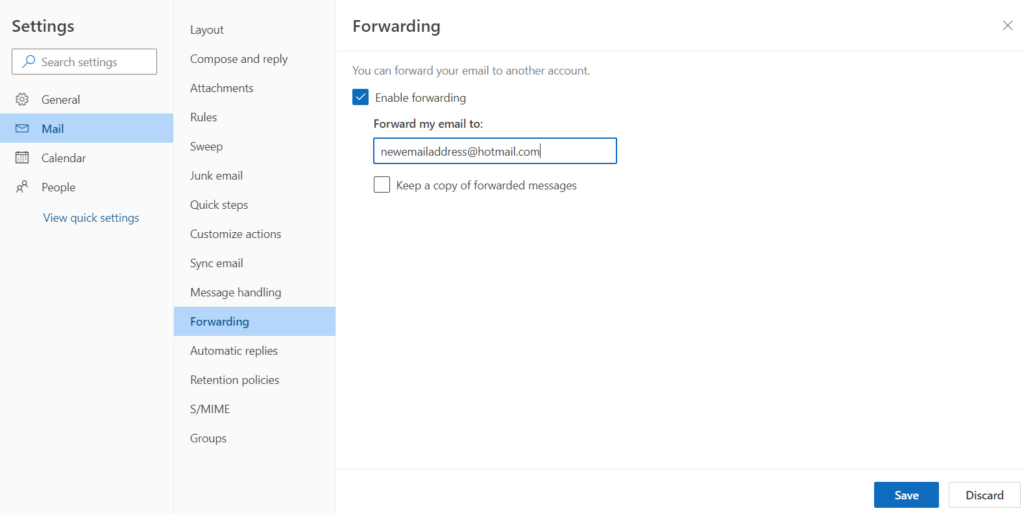 5. Enjoy your brand-new email address featuring less spam!
See? A breeze! The key to making sure this process goes as smoothly as possible is to keep your old email address for as long as you can, and have patience! The exporting and importing of contacts/emails may take a long time and this is where people tend to get frustrated, quit the process, and lose lots of data. Still, have questions? Check out our tutorial video on YouTube.
Now that you know how easy it is to create a new email address, you can make the switch to Greenlight Networks! With our high-speed fiber Internet, you will now have the freedom to work, play, and live without limits! Learn more and see if our service is available in your neighborhood.