INCREASE YOUR HOME VALUE WITH FIBER INTERNET
A study conducted by Fiber to the Home Council Americas (FTTH) found that homes in neighborhoods with a fiber connection can see an increase in value up to 3.1% or $5,437. Studies have also shown that home buyers are choosing where to live based on access to high-speed internet service. A fiber connection affects property prices in the same way as other home improvement projects. Many homeowners choose to renovate and update their homes. These upgrades, such as remodeling the kitchen, installing hardwood floors, or landscaping, can be appealing to potential house buyers. With today's market, imagine how much more you could sell your home for with the addition of fiber Internet!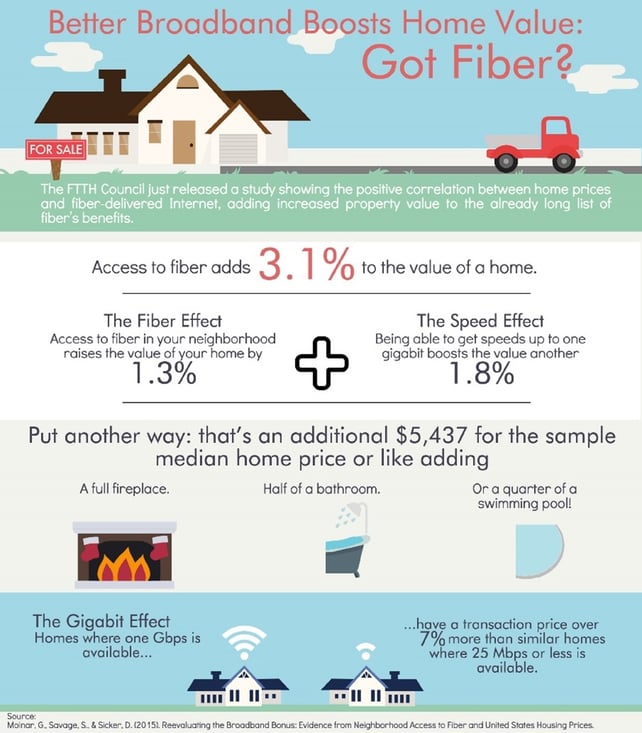 Does my home need fiber?
Internet access is more important than ever as smart homes become more popular. Many purchasers want to connect their houses to the "Internet of Things" so that they can remotely operate appliances and other household items to save time, boost security, and save energy. Video doorbells, self-programming thermostats, mesh networks, automated appliances, and smart televisions all rely on a fast, reliable internet connection to function properly. Including these features in a new home can boost its overall value and sale price.
Why fiber Internet?
Speed: Fiber optic cables send data up to 1,000 times faster than copper cables, meaning it is easier to connect with others, upload data, load websites, and stream. All other technologies on the market have lower upload speeds versus download speeds. With fiber, you get the same fast speed, upload, and download.
Reliability: Fiber can better withstand different temperatures, water, and weather than other technologies. And since a fiber line runs directly into your home, you don't have to worry about spotty signals from a satellite or tower.
Security: A dedicated fiber line directly to your home means you get more consistent speeds. Plus, since fiber cables do not radiate a signal, it is extremely difficult to extract data from it—making it more secure.
Cost: With Greenlight Networks you get NY's fastest fiber Internet at one low price. Plans start at $50 per month with synchronous upload and download speeds at 500 Mbps. With no contracts, hidden fees, or taxes you will have the freedom to work, play, and live without limits!
How do I know if my home can get Greenlight?
Greenlight Networks is expanding our fiber network, bringing super-fast connectivity to homes throughout New York State. If you're ready for the advantages of a fiber connection, check here to see the availability at your address.