DIGITAL SPRING CLEANING TIPS FROM GREENLIGHT NETWORKS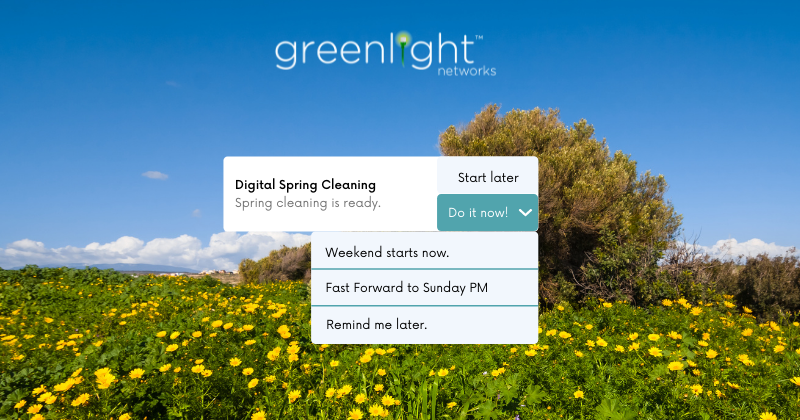 Coming home to a house that is so spotless it virtually gleams is one of life's greatest pleasures. Spring always marks the time of the year when homeowners tackle this endeavor before the weather finally breaks for the Summer!  
This Spring take the time to get rid of the clutter on your digital devices as well. Decluttering your devices, apps, and online accounts not only organizes your online activity but can help protect your identity from hackers. We spend an increasing amount of time online, on average 6 hours a day! A large amount of our personal information is stored on the devices we use, which makes it important to know where and how it is stored to ensure your identity is protected. 
 We have put together this checklist to help you walk through your digital spring cleaning to make sure everything is in tip-top shape.  
Review and Delete Inactive Accounts 
An important task to complete during your spring cleaning is to delete your inactive accounts. A quick way of doing this is by looking through your password manager on any device and identifying logins that you do not use. Remove all personal information and deactivate it to stop receiving emails, text messages, or even phone calls from companies that you are no longer interested in.  
Backup Information 
We all have hundreds if not, thousands of photos, important documents, and contacts on our devices, so make sure you store them in an external place like a storage cloud or external hard drive. When you backup your personal information on a cloud storage network, it can be accessed on multiple devices and can be easily restored if you lose information on other devices. The last thing you want to do is lose all your photos or contacts because of technical issues or hackers.  
Clean Email 
According to statistics, 62% of emails in the average inbox are not important and can be processed in bulk. During your digital spring cleaning, get rid of any unnecessary emails in your inbox that can clutter other important emails. Report re-occurring spam emails and create 'shortcuts' for people you frequently contact, to save time. Create folders for different types or categories of emails you receive (like travel, shopping, etc.). An organized email account will improve productivity, save valuable time, and decrease the chances of you missing vital emails. 
Review/Update Passwords 
Review and change your passwords occasionally. Do not rotate the same password for different accounts. You might be doing hackers a favor by using the same passwords for multiple accounts, so change them. If you have the option to set two-factor authentication for login, do so. If you are worried about forgetting the different passwords you have created, write them down and place them in a secure place.  
Organize 
Something simple as getting your devices organized may seem tedious but proves to show a difference. Give your device a fresh look by organizing photos, applications, work documents, homework, and other personal items. Organizing your devices makes it easier for you to locate things and consolidates storage. 
Update Software on Devices 
Keep all your devices up to date as companies release new software updates. You can do this automatically by enabling automatic software updates/installs on your device. After you update your laptop or computer, you will find that the device operates quicker. Along with smoother running speed, your privacy is more secure with new updates making it harder for hackers. 
Secure Network
Fiber Internet offers high security because of the way it transmits data. Due to the fast speeds, it makes data signals much harder for hackers or malicious individuals to intercept. With Greenlight Networks fiber Internet you get secure, fast, and reliable synchronous speeds at one low cost. As New York's fastest fiber Internet provider your household will have the ability to stream, work, game, back up data, or send and receive large files at the same time with zero buffering or lag.  
Get moving at the speed of Greenlight and make the switch today!